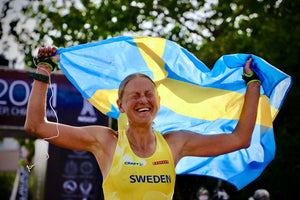 Ida nilsson
We're all runners here at Moonvalley but Ida is our bonafide running prodigy. From a rising track star with a running scholarship in the US to performing at European and World Championships in the blue and yellow of Sweden, she's seen and done it all. A long-term injury forced Ida to get into the outdoors and see the beauty at a slightly slower pace and it was here she fell head over heels in love with moving in the mountains. The rest, as they say, is history. Since 2015 Ida has been winning some of the biggest trail and 3 ultra races in the world and is one of the sports top athletes. She now calls Måndalen home, and it's here where she can unwind, forage, practice yoga and get her dose of sea and summits. The trail running world is also where Ida met her two Moonvalley co-founders – some things are just meant to be...
Ida describes herself with these words;
I am a mountain-loving swede who discovered how much fun it is to be a mountain athlete three years ago. I have always been running since I was a kid and competed for the Swedish national team at the European and World championships in the 3000-meter steeplechase. Now I live in Norway to get better training possibilities summer and winter and to be close to really beautiful mountains. I have been specializing in ultra races and my breakthrough was my first ever sky race in 2016 when I won Transvulcania ultramarathon and since then I have been racing for Salomon's international team. In the wintertime
I do ski mountaineering and race for the Swedish national team.
Outside of running, I enjoy growing vegetables, picking berries, yoga and swimming in the fiord.
Idas Instagram
Mimmi Kotka
Mimmi is probably best described as Moonvalley's running scientist superstar. Her folks instilled in her a passion for all things food and foraging, as well as a deep love for the outdoors and wilderness. It was the start of a journey of discovery in how nutrition and health go together like two peas in a pod. It's only three years ago that Mimmi discovered trail running, but fueled by her incredible passion, determination and self-made superfood she's now won some of the biggest races around and is considered one of the best athletes on the planet. Be warned, she's known to run for miles and miles and talk for hours and hours about nutrition, health, our planet and getting molecular about the Moonvalley mindset.
Mimmi describes herself with these words;
I have always been in love with the outdoors, hiking, skiing, biking, and roaming the lands as a wild outdoor kid. Running came later when I decided to challenge myself to a 30K race in Sweden. In training for this race, I completely fell in love with the simplicity and beauty of trail and ultra-running. To me running long distances is a way of self-expression, challenging my physical and mental limits.
After winning some ultra-races in the Alps I am now part of the La Sportiva running team, such an inspiration, and honor.
My other passion in life is nutrition, food. I am forever grateful to my parents for being raised with a huge garden, learning how to preserve, forage and cook real, tasty, nutritious food. This sparked my interest in nutrition and the relationship between food and health. Being a molecular nutritionist I combine this passion with science and, of course, all things sports nutrition.
What we eat should nourish us in an honest way, feeds our adventures and also takes care of the planet.
Mimmis Instagram
Emelie Forsberg
It was growing up in "Höga Kusten" that gave Emelie her first taste of the outdoor life. It was those hills and forests that piqued her curiosity for the environment and wild places and led her to move to Norway to study biology, climb, ski and work in mountain huts. It's safe to say it was love at first sight. Emelie's curiosity knows no bounds and has led her to, amongst countless other things, become a world-class trail runner, attempt to climb an 8000-meter mountain, work as a baker, learn how to farm vegetables, write a book and become a yoga teacher. Luckily for us, that insatiable lust for new experiences also included starting her own food company!
Emelie describes herself with these words;
I was born and raised on the east high coast of Sweden.
The wild forests and the small hills where my playground and that´s where my fascination for nature and environment begun. As a teenager, I spent a lot of time rock climbing and skiing that brought me to the mountains where I fell in love. The mountains took my heart away and ever since then I have loved skiing, running or climbing in them.
On the side of my mountain passion, I studied biology, worked in the mountains and ran as much as I could on my spare time. In 2012 I started running professionally and since then I have been running races all over the world and loved every bit of them.
Running is so much more than just a hobby!
Emelies Instagram