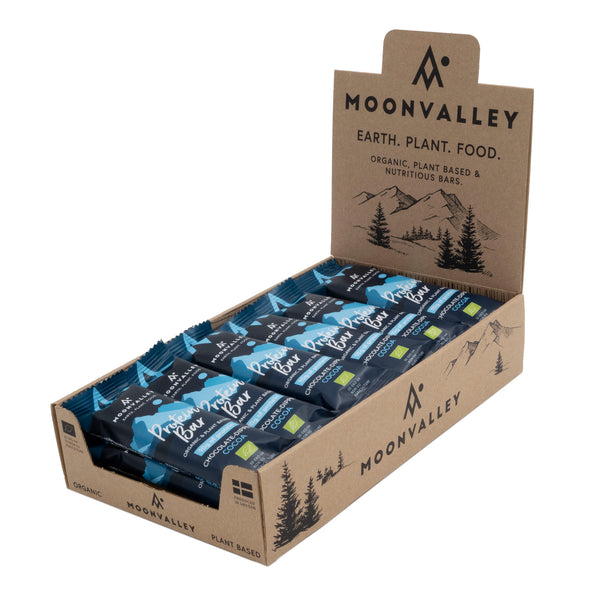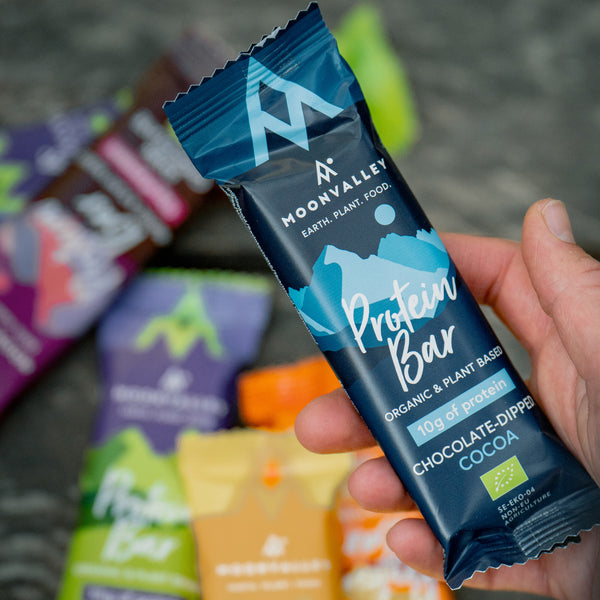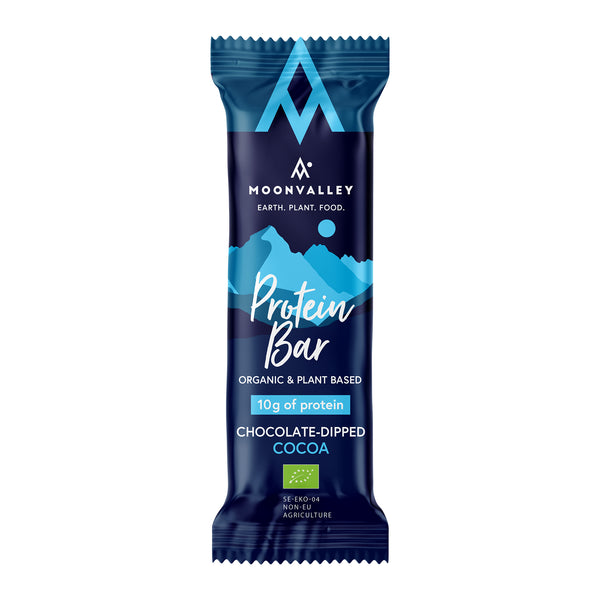 Organic Protein Bar Chocolate-Dipped Cocoa 18-pack
Treat yourself to 18 luxurious Moonvalley moments with our vegan Cocoa Protein Bars dipped in chocolate! These wonderful protein bars are as flavorful as they are strengthening. They work when you're on the go or when you've finished an intense workout.
At Moonvalley, we don't think you should have to choose between healthy and tasty when you can have both. That's why all our products are vegan and made from organic ingredients, so you can always be sure you're enjoying a treat that is as nutritious as it is delicious!
Box contains 18-pack of protein bars
10 g of high quality pea protein per bar
Vegan
Organic
No palm oil
No artificial sweeteners
Expiration date: 2024-03-09
Product Ingredients
Ingredients: Rice syrup*, date paste* 22%, dark chocolate* 17% (sugar*, cocoa mass*, cocoa butter*, emulsifier (rapeseed lecithin)*), pea protein* 16%, coconut flakes*, cocoa butter*, cocoa powder* (5.2%), OATS*, sea salt.
*Certified organic ingredient. 100% organic ingredients SE-EKO-04
MAY CONTAIN TRACES OF MILK, EGG AND SOY.
Nutritional Information
100g/ 60g:
Energy: 1767kJ/422kcal / 106kJ/253 kcal
Fat: 19g/11g
Carbohydrates: 12g/6,9g of which sugars: 33g/20g
Fibre: 6,3g/3,8g
Protein: 16g/10g
Salt: 0,83g/0,50g